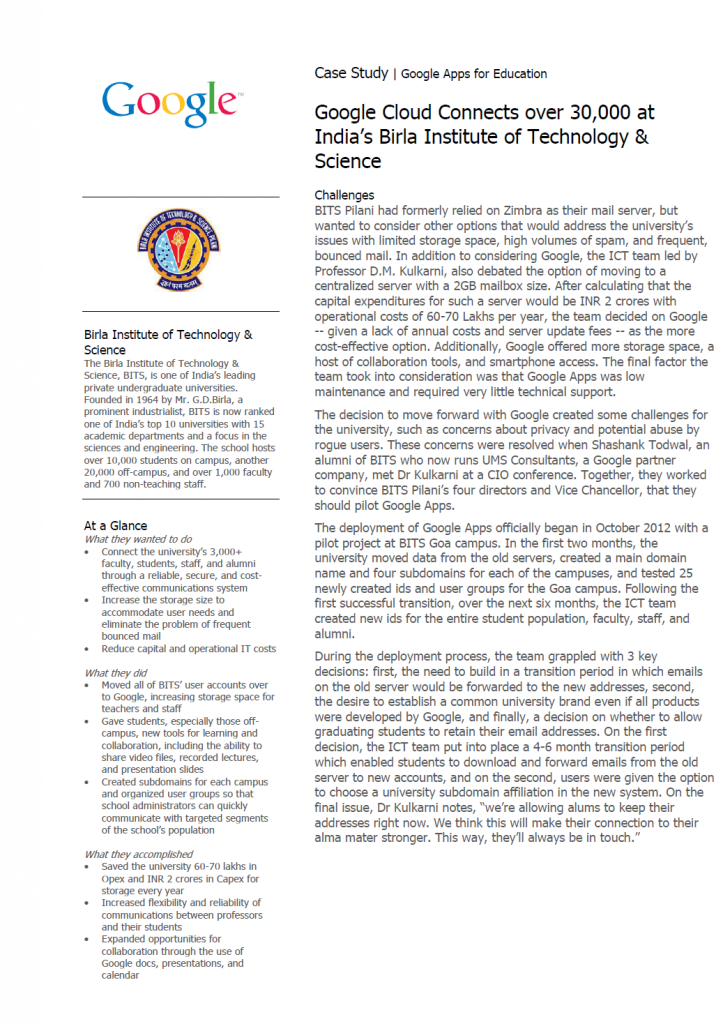 Official Case Study on BITS Pilani by Google.
UMS: Google – Case Study for adoption of Google Suite for Education by BITS Pilani
Around 2010-2011, BITS was looking for a Centralized Email and File Storage solution across their 4 campuses for better inter-campus communication and collaboration. Under the guidance of Prof. D.M. Kulkarni (DMK) of BITS Pilani, Shashank Todwal, CEO and founder of UMS, was fortunate to be doing this project as a part of his BITS Pilani academics and they urged BITS to adopt Google Suite for Education (then known as Google Apps for Education) as a solution to their problem. Prof. DMK got the necessary approvals and reached out to Shashank, who then promptly started working on the same and thus with BITS, Pilani (his alma matter) became the first customer for UMS Tech Labs in 2012. Down the timeline, Google sponsored a case study on BITS Pilani for their adoption of G Suite for Education, stating how BITS is now able to save INR 2 Crores on its CAPEX and 60-70 Lac on its OPEX each year. UMS was tagged for its contribution in this case study.
For more details please visit: Google Sponsored – BITS Pilani Case Study